Are you intuitive? Are you in business?  Are you using your intuition in your business?
If you have stepped into your purpose work business, every day is filled with choices. Will you trust your intuition as you make decisions and build your business in alignment with your sacred intention?
Intuition is the secret superpower every successful entrepreneur is tapped into!
Have you been following the online business gurus that share their tactics but they have led you to little or no results?
Growing your purpose driven business is an INSIDE job that can't be fulfilled by following someone else's plan or vision.
If you know something's been missing from your business, and you are ready to TRUST YOURSELF, I invite you to join me on October 4th for:
Hosted by Jessica Perez-Beebe — professional athlete, visionary performance coach, and founder of four successful businesses.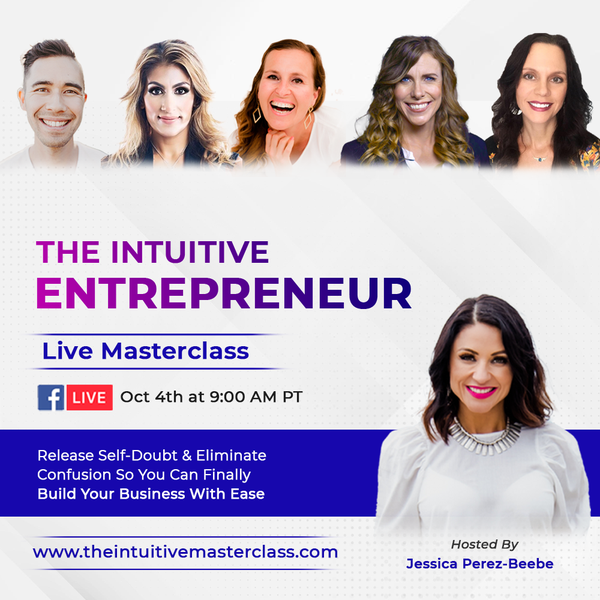 This live masterclass features a panel of successful entrepreneurs who balance strategy with INTUITION.
During the INTUITIVE ENTREPRENEUR live masterclass training you'll learn:
⭐ How to balance logic and strategy with intuition
⭐ How to know when something is right for your business, and when it's not
⭐ How to apply what you learn from coaches and mentors while also trusting your gut
⭐ Daily practices that will help you harness your intuition on the spot
⭐ How to show up enthusiastically and consistently for your audience, be POWERFUL and in control of your business, and be CENTERED and secure in your purpose and mission. (Why you're here and who you're here to serve)
Now, more than ever, it's crucial to understand how to use intuition when making decisions and following a plan.
It's time to turn down the "gurus" and turn UP your INTUITION.
Reserve your spot in this free masterclass that will change the way you do life and business forever!  SIGN UP NOW
P.S.  Fast track your success by learning from those who have walked the path you're on.  Click here to reserve your spot in this free masterclass and upgrade the way you do life and business forever!